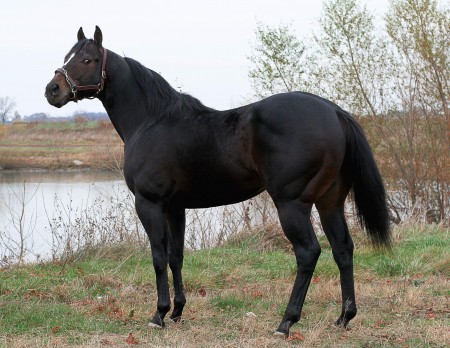 Click Thumbnail for Larger Picture
Foals by Jazz Be First
Jazz Be First (QH)
by Bono Jazz out of Last Shall Be First
Winner of The Governor's Stakes @ Hoosier Park in 2010
Winner of the Laddie Futurity@ Hialeah Park setting a track record @  19.227
Winner of $186,839
view Jazz Be First's Race Record
Jazz Be First's dam is the great producer Last Shall Be First.  Last Shall Be First is the producer of over $1.6 million in earnings.  Out of nine starters there have been 26 wins (7 of 9 winners), seven stakes wins (3 0f 9), and one stakes placed winner.  Also there have been nine register of merits, two superior race awards, three world championships and one world champion.  Last Shall Be First has produced the likes of Last To Fire (>$575,000), Last To Check Him (>$295,000), Jazz Be First (>$175,000), etc.
Jazz Be First wins allowance race in Florida!
Jazz Be First 2 yr olds will be racing in 2016!
Stud Fee: $1000
Speed Index: 106, $186,839
Owner: Alejandro Medina